I've been working on a box for the past three days, and as I think of this of box, came to an idea for the next opus.
Looking forward to realizing this idea!
As for today's, two bears for earrings.
I found them in a small craft shop in Nasu.
Hope someone will love them as much as I do....
The combination of fake sweets and tsumami craft to make a matching bottole and a pair of earrings.

Originally, I thought this as a gift wrapping, but as the second thought, decided that this can be just a set of a container and earrings.

This rather sweet Gothic earrings can be used for Halloween parties, can't it?

The beginning of another busy week.
This Friday is the first day of an event, The Market.
Hope things go well and people enjoy it.

There are lots of things to be managed, and I should be focused on them. But there are things poping up in my mind, which should not be crossing my mind now....
Life is difficult!!

A pair of earring with blue margarets.
I know this is not in real, but I like them.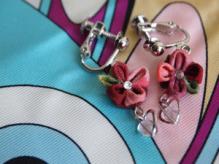 The last day of the Golden Week.
I always wonder why holidays really fly....
Today started rather hot, but suddenly changed to chilly weather associated to rain and hail.

Suppose this is a part of spring weather...

A pair of earrings with small red petals.
This pair have matched ring.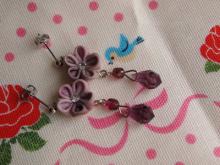 Leaving my duties behind, my mind can fly and seek more interesting things to create and enjoy searching rough designs for it.

Hope these ideas can be realised as I intended... but suppose, I have to go through usual process of trials and errors.

Here is a pair of earrings with purple drops.
These are charming and cheerful, but stilll, grown-up-ish due to the chic purple petals.