| HOME |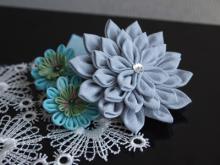 Had fun in Kanda last night.
It's good to be with friends and chat something trivial and, from time to time, things that are more serious.

One of my favourite flowers, Dalia.
This flower is large and gorgeous, and quite sure to give strong impression on beautifully arranged hair.

The centre of the flower is a large glittering swarovski which reflect lights from various directions.

<<Cherry Blossoms | HOME | Rose Tatting Necklace>>
Comments
Post a comment
| HOME |