| HOME |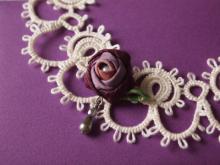 Today is a cartonnage lesson day. Had a good time tackling to my small project. I enjoyed the lesson, but I could not finish my stuitcase.... pitty.

This piece is a collaboration of tatting lace and tsumami craft.
A small rose with a swinging perl bead can give you a touch of the Spring, and excitment of the Summer.

Rose broach can be removed. So if necessary, you can hand wash tatting nacklace and keep it clean and white!

<<Dalia | HOME | Flower Cufflinks>>
Comments
Post a comment
Trackbacks
| HOME |