| HOME |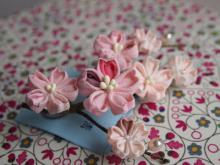 It's a fine day but gusty wind is blowing....
I was thinking whather today could have been a better day for the market or not.
Maybe not....

Here is a branch of cherry tree in full blossom.
There are two buds still to flower - these are fresh water pearls.
This broach may add a touch of Spring to the wearer ... and surrounding people.
Whilst you wait for the cherry blossoms, you can enjoy this silk ones.

<<Flower Cufflinks | HOME | Akagi Marshe>>
Comments
Post a comment
| HOME |