| HOME |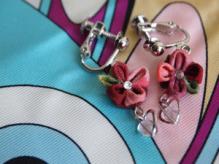 The last day of the Golden Week.
I always wonder why holidays really fly....
Today started rather hot, but suddenly changed to chilly weather associated to rain and hail.

Suppose this is a part of spring weather...

A pair of earrings with small red petals.
This pair have matched ring.


<<Cherry Blossoms and Dogwoods | HOME | Clematis>>
Comments
Post a comment
| HOME |