| HOME |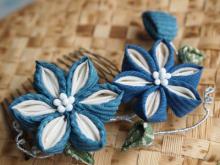 Lovely blue sky, at last!
I found violet clematis floweing in my garden.
Clematis is one of my favourite flowers.
Happy to see it coming!
Summer is nearly there - that's the feeling I have whenever I see clematis.

Clematis motif 2012 version.
Last year's design had three flowers. That was good as it was.
So this summer, there will be two types of clematis: this one and three flower version.

<<Crimson flowers | HOME | Dogwood>>
Comments
Post a comment
| HOME |