| HOME |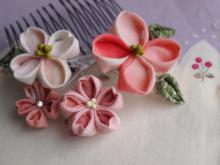 I thought today gonna be better weather...
and did my washing!!

Anyway, happened to heared lots about the exchange of cherry trees and dogwoods beteen Japan and the US.
In Tokyo, there are lots of dogwoods planted by the road.
I love their pretty flowers, but didn't know the name of them for a while.

Originally intended to arrange only dogwood petals, but reconsidered to add cherry blossoms. It may be a good symbole for 100 year anniversary for the "friendship" between Japan and the US.

<<Clematis | HOME | Pinky Plum>>
Comments
Post a comment
Trackbacks
| HOME |