| HOME |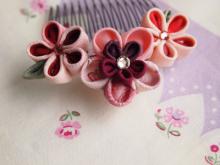 "Raining dog and cat" ... or was it "dogs and cats"?
Either way, last night's rainfall was very heavy and noisy!

Plants seem to be happy with plenty of water falling from the sky, but humans aren't that much.

This is a comb with three pink plum petals.
As a colour wise, it might be too warm for early summer, but glittering swarovski may contribute to give clear and fresh impression on your hair.

<<Dogwood | HOME | Purple Drops>>
Comments
Post a comment
| HOME |