| HOME |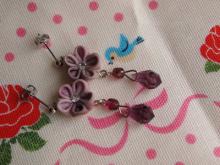 Leaving my duties behind, my mind can fly and seek more interesting things to create and enjoy searching rough designs for it.

Hope these ideas can be realised as I intended... but suppose, I have to go through usual process of trials and errors.

Here is a pair of earrings with purple drops.
These are charming and cheerful, but stilll, grown-up-ish due to the chic purple petals.

<<Pinky Plum | HOME | Blue Cufflinks>>
Comments
Post a comment
| HOME |