| HOME |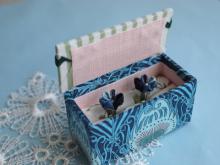 The first day of my week-long-holiday.
Such a relief to be at home and do what I want to do, rather than what I need to do.
From tomorrow, I shall engage myself to various tasks - gonna be busy.

Cufflinks with small blue flowers.
As my friend rightly pointed out, the box took more efforts than cufflinks....
This box is wrapped with Liberty print at the bottom, and pretty stripe with green-lace as an accent on the top.

<<Purple Drops | HOME | Strawberries>>
Comments
Post a comment
| HOME |