| HOME |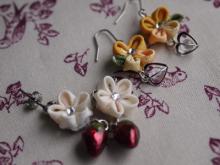 Staying at home and doing nothing - what a faburous way to spend a day after a long and busy week!
I seriously believe "doing nothing" is luxury.

Two pair of earrings - strawberry and rapeseed.
White strawberry flower and its fruits are one of the motifs I wanted to feature as earrings.

<<Blue Cufflinks | HOME | Three Petals>>
Comments
Post a comment
Trackbacks
| HOME |