| HOME |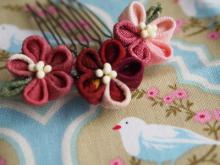 Lovely weekend, sunny and warm - could say it's rather hot!
Yesterday's Yokohama Red Bric Weahouses were full of people drinking German beers.
It was really a good day for that! and I am sure that today is another good day for drinking a few pints of beers outside!

Here is the lovely shades of red decorating a small comb.
This may be good for casual use like wearing it with a pair of jeans.

<<Strawberries | HOME | Roses>>
Comments
Post a comment
Trackbacks
| HOME |