| HOME |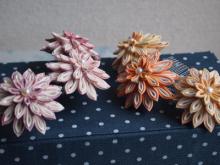 It's raining today... nice to be in a room, sitting on a sofa and sipping a lovely hot tea quietly.
But not tomorro, please!!

Tomorrow, Akagi Marshe is held, if the weather permits.
Hope, at least, stop raining....

These are combs with three chrysanthemums.
Pink and orange fabric used for the flowers have variaty, not monotonious one colour petals.
As for the centre of the flowers, fresh water perls are used to add further elegance.
<<Akagi Marshe | HOME | One Day Workshop>>
Comments
Post a comment
| HOME |