| HOME |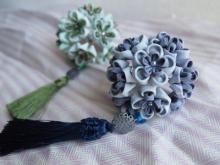 Really looking foward to Golden Week, although my G.W. does not start until 1 May...

This Kanzashi is round in shape and has swinging tassel to add charm.
Flowers are various shades of blue, which create different impressions according to the direction it was viewed.

Blue glass bead is handcrafted by FrostMoon.
It is a real beauty by its own acoount, parituclarly when it collect sunshine and reflect blue lights.

Comments
Post a comment
| HOME |