| HOME |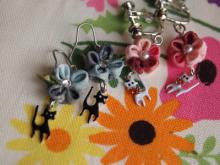 Another busy day ahead.
It's quite tough to meet, talk and discuss with different people everyday...
Although I can learn various things from there, nenrgy required is vast.

Colourful flowers with little cats.
They are one of my favourite motifs for earrings.
They can be cheerful additions to your summer garmets.

<<Shadowy Blue | HOME | Petit Hydrangeas>>
Comments
Post a comment
Trackbacks
| HOME |