| HOME |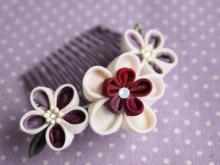 Can't believe it is almost towards the end of April, as tonight is chilly and like in Winter.

Slight consolation is that the flowers I bought the other day brightened my room - garberas in various shades of pinks and pale pink ranunculuses.

Here is a comb suitable for Sunny and warm early summer days.
White and the combination of pueple and white petals may give cool and fresh feeling.

<<Petit Hydrangeas | HOME | Plum petals>>
Comments
Post a comment
Trackbacks
| HOME |