| HOME |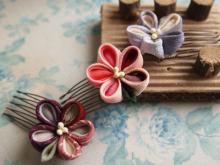 it's gray again, and have to go to work.
Sounds bit like Dido's song.... the difference may be no one near me so I have to swallow all the reality.

Little plum flowers on a comb.
It's small but has character.
it's interesting to see choice of colour change as the seaon changes. I didn't really intended this, but unconsious choose something suitable for the season - gentle colours for Spring.

<<Three White Flowers | HOME | Black Petals>>
Comments
Post a comment
Trackbacks
| HOME |