| HOME |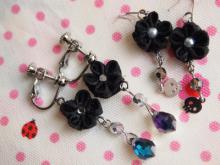 Brought a few new items to Hands yesterday.
Earring section at our Hands booth refilled!
There are other items we added, too. So please go and check it out!

There pairs of earrings with black petals are at Hands as well. These are two sides of a coin ... like a princess and a witch.
Actually, it might be two sides of a woman?!

One is with two types of czech beads - round and drop shape; and the other is with round swarovski and skull.

<<Plum petals | HOME | Metal Hearts>>
Comments
Post a comment
Trackbacks
| HOME |