| HOME |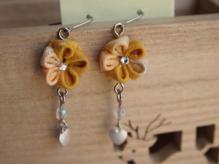 Sort of finishing weekly routine.
It's good to go through routine and get use to the workload.

This pair is small yellow flowers with tiny metal hearts.
Suppose hearts shouldn't be too big....?

Anyway, these swinging white metal hearts are really pretty little things, particularly with cezk glass beads adding elegance.

This can be used for various occasions from casual like a pair of jeans to parties.

<<Black Petals | HOME | Rapeseed>>
Comments
Post a comment
Trackbacks
| HOME |