| HOME |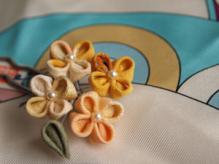 Warm and lovely day, but quite clearly the season of cherry blossoms is gone.
Pitty I missed the occasion to enjoy those in Inokashira Park....

Here is another symbol of Spring - rapeseed.
Lovely lemon colour may be a jolly company for Spring/Summer outing.
Vitamin colour like this can give the wearer energy and luck!


<<Metal Hearts | HOME | Events in May>>
Comments
Post a comment
| HOME |