| HOME |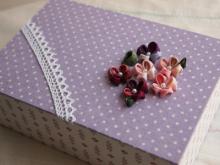 Start raining at night.
Did't relised it until quite late at night as I was taking a nap on a sofa....

Suppose I was really tired because of the beginning of the new fiscal year, and a week with new people and slightly different environment.

Anyway, glad to know there is a weekend almost no plan ahead of me!!
I definately need it.

This purple box with hydrangea came out as a beauty, despite the fact that inside, I could do better.
I am grateful that my friend liked this piece and brought it with him.

<<Kusudama | HOME | Star Flowers>>
Comments
Post a comment
Trackbacks
| HOME |