| HOME |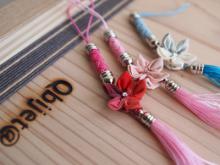 This morning, I enjoyed the views through train windows.
Now, they are full of colours and enegies - new greens, flowers are blooming in purple, pink, yellow and white.
Lucky that the rain last night did not washed off cherry petals!

These are petit size straps for keys and phone accessories.
it's pretty to have one of these swinging around your phone.



<<Purple Box with Lace and Hygrangea | HOME | Shades of Violet>>
Comments
Post a comment
Trackbacks
| HOME |