| HOME |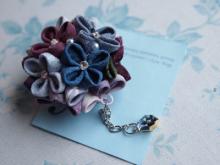 Thought today is a good day for doing my washing.
But the weather betrayed me....

So, I've decided to engage myself in different business...

This is a collection of small flowers to form a round flower-ball. This can be useful as it works in various ways. For instance, this originally is a scarf holder, but it can be a pendant with a chain.

When you use as pendant, small swarovski element will swing like a little star.

<<Star Flowers | HOME | Passion Flowers>>
Comments
Post a comment
| HOME |