| HOME |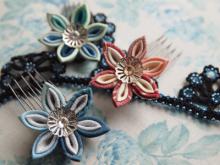 Thanks to acupuncture, the pain I had in my arm dissolved!
Until yesterday, I was thinking I need pain-killer to do something about my arm...

Today is the beginning of the old routine.... have to keep running for at least 3 months and half.

These passion flower mini-combs are good for both casual use and party scenes.
When these came out, I felt something odd, and then realised that I miscounted the petals...
Well, it happends.

<<Shades of Violet | HOME | A box with Chrysanthemums>>
Comments
Post a comment
Trackbacks
| HOME |