| HOME |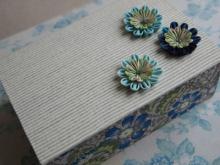 Today, went to acupuncture as "maintenace" of my body.
My needs in acupuncture is quite serious, particularly after Mitsukoshi event, for which I work so hard (maybe too hard).

Anyway, this is a box with chrysanthemums.
The size is good for accessaries, and puffs for make-up.
Outside feature is rather plain, but inside is different.
It's fun.
If you like to see inside, visit here.

<<Passion Flowers | HOME | Green Flower Ball>>
Comments
Post a comment
Trackbacks
| HOME |