| HOME |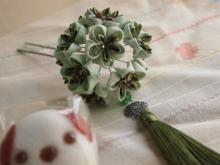 Went to Tokyo Midtown for Hanami in Kimono.
It is almost an annual event among my friends.
The weather was milder than yesterday, and the contrast between white cherry blossoms and blue sky was magnificent.

This Kanzashi is like a bunch of flower with green tassel.
This isn't a large piece, but certainly has characters.
The tassel is hanged below a round glass bead crafted by FrostMoon. The colour of the glass bead is delecate shades of green and blue; and that's fabulous.

<<A box with Chrysanthemums | HOME | Akagi Marshe>>
Comments
Post a comment
Trackbacks
| HOME |