| HOME |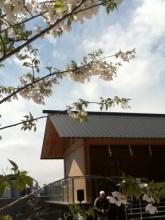 It was a very windy day and I was there for only in the morning.
But these negatives did not affect me having a good time there.
Many people including my friends came to see me in the morning, and enjoyed a good chat with them.

Thanks a lot for coming, and picking something from my work!
I am very grateful for that.

Although it was windy, cherry blossoms were beautiful.
I wasn't sure whether the shrine actually has cherry tree, but it was there and was in full-bloom.

My event in this month is over.
I am looking forward to the moment I can sit down quietly and work on new pieces... till events in May!

<<Green Flower Ball | HOME | A Spring Bunch>>
Comments
Post a comment
| HOME |