| HOME |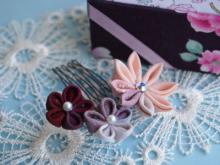 Another two nights to this weekend.
This is no surprise as one week have only seven days.
But the realization of the time past, that's shocking.

A comb with gradation of colour from violet to pink.
This isn't a large piece, but shows solid existence when it's set on your hair, particularly for the lighter hair colours.

Good for casual use, but it can also be used for party scenes - preferably with other ornaments.

<<Akagi Marshe | HOME | Event in April>>
Comments
Post a comment
Trackbacks
| HOME |