| HOME |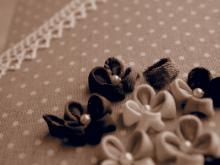 Nearly the last minute notice on the event in April.
Considering the schedule I had in March, which was rather packed... there is only one event I participate in this month.

7 April (Sat)
Akagi Marshe
10:00 - 17:00
@ Akagi Shrine (Kagurazaka)

I am afraid I will be there only in the morning as I had to attend a class in the afternoon.
I shall be back around 17:00 to Akagi.
Sorry for the inconvenience this may cause, but there is someone to look after my tsumami crafts and customers.

<<A Spring Bunch | HOME | Strawberry Box>>
Comments
Post a comment
Trackbacks
| HOME |