| HOME |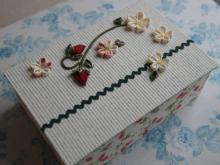 A fierce spring storm in the afternoon, and on going.
I have decided not to go to work today, and it was a wise decision to make!

Another collaboration between cartonnage and tsumami craft.
This decorative piece may be suitble on a dressing table for storing small things.

Inside of the box has character as well.
If you are interested to see how it looks, click here.

<<Event in April | HOME | Dalia>>
Comments
Post a comment
| HOME |