| HOME |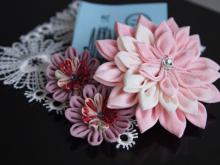 The first business-day in April.
This supposed to be full of new events, meeting people, and etc.
Hope this meeting new people is a wonderful thing and bring mnay joys.

At the same time, to me, new season means awful lots of admin work and preparations....

This Dalia is gentle and sweet pink and surrounding purple flowers emphasize the sweetness of the Dalia.

<<Strawberry Box | HOME | Blossoms>>
Comments
Post a comment
| HOME |