| HOME |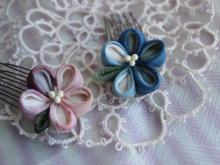 The second day at 2k540.
I had easier time today as I did not have any lesson to teach.
Frends come to visit us, and thanks to them, we had lovely sweets for tea. (thank you!!)

These are mini-comb with a little plum flower.
Good to use as one-point accent for your hair, and to add a touch of elegance.
It will be cute to wear with a pair of jeans.

Comments
Post a comment
| HOME |