| HOME |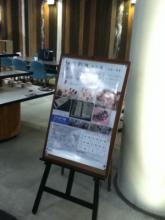 The Day One at 2k540.
Thanks a lot t those who came and joined my workship sessions, and staff supported me, and all.

Although the first day is the most important day and one should not be late for meeting-hour, I did as often heppenied on an event day...

It was a lovely warm day, but 2k540 was rather chilly and windy when trains pass.

Today was a big day for me because I need to look after workship sessions.
It is fun to see people wokring hard to produce somehting, and also a pleasures tobe associated to the memory of doing something feeling good.

Tomorrow, I will be there between 11:00and 13:00 due to the work I need to enage else where. Sorry....

<<Day 2 @ 2k540 | HOME | Swinging flowers>>
Comments
Post a comment
Trackbacks
| HOME |