| HOME |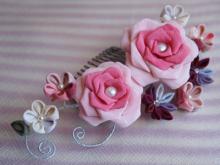 Gray day again...
It would be nice to have sunny weekend, but there is no point complaining about the weather.

This piece is consisted of two roses as main features surrounded by small flowers and rose vines.
The centres of the roses are large fresh water perls.

This may be a good hair accessory for parties and the situation requires dress-up.
<<The Market: Petit Lessons | HOME | Cherry Blossoms>>
Comments
Post a comment
Trackbacks
| HOME |