| HOME |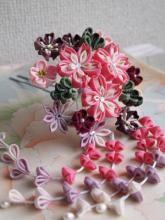 Getting closer to the end of March, but the air is still chilly.
It is often happens even in Japan or in England, snowing around the Easter. So, maybe this weather is not particularly strange...

A large cherry blossom Kansashi with fresh water pearls.
Various shades of pink and pale violet may symbolize the gentle and warm atmosphere of the Spring.

The centre of flowers are swarovski and Czech beads.

Comments
Post a comment
Trackbacks
| HOME |