| HOME |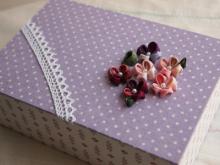 Start raining at night.
Did't relised it until quite late at night as I was taking a nap on a sofa....

Suppose I was really tired because of the beginning of the new fiscal year, and a week with new people and slightly different environment.

Anyway, glad to know there is a weekend almost no plan ahead of me!!
I definately need it.

This purple box with hydrangea came out as a beauty, despite the fact that inside, I could do better.
I am grateful that my friend liked this piece and brought it with him.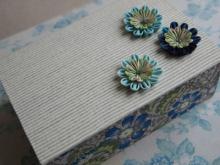 Today, went to acupuncture as "maintenace" of my body.
My needs in acupuncture is quite serious, particularly after Mitsukoshi event, for which I work so hard (maybe too hard).

Anyway, this is a box with chrysanthemums.
The size is good for accessaries, and puffs for make-up.
Outside feature is rather plain, but inside is different.
It's fun.
If you like to see inside, visit here.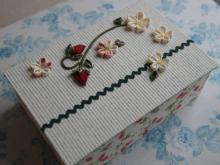 A fierce spring storm in the afternoon, and on going.
I have decided not to go to work today, and it was a wise decision to make!

Another collaboration between cartonnage and tsumami craft.
This decorative piece may be suitble on a dressing table for storing small things.

Inside of the box has character as well.
If you are interested to see how it looks, click here.

| HOME |