| HOME |
A small broach to give a touch of freshness like a gentle breeze.

It is getting warmer ... probably hotter already in Kyoto.
The sun light made everything shine, so I start choosing something cool and fresh.

I love this ruled behaviour of small patels on this work.
It's rather soothing, and the process of making it makes me feel as if I am in a healing session.
A Happy New Year!

A bit late for new year greeting... sorry.

but, all the same, wish you a very happy year.

My fortune telling was really bad from the day 1 of 2013, and thought I was doomed.
Life must go on and fortune needs to be turned.... I suppose.

Sunday was Akagi Marshe, and was a hot day.
There were lots of visitors to Akagi Shrine enjoying the market and other events held there.
Next will be on 16 June.

This is a small tulip broach.
Nice on a hat, a bag and other usual sort of decoration ... like jaket.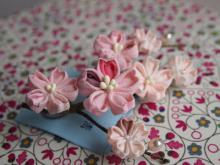 It's a fine day but gusty wind is blowing....
I was thinking whather today could have been a better day for the market or not.
Maybe not....

Here is a branch of cherry tree in full blossom.
There are two buds still to flower - these are fresh water pearls.
This broach may add a touch of Spring to the wearer ... and surrounding people.
Whilst you wait for the cherry blossoms, you can enjoy this silk ones.

| HOME |